The Triple B Story
A story of family.


A story of hard work.




A story of the realization of the American dream!
The Three Bs
The father, Charles W. Burke, was born in Colfax, Louisiana on August 14th, 1942. Charles was the son of a farmer, carpenter and painter George Burke, Sr. and housewife Bulah Reta Burke.
Charles' childhood was one on the farm. He assisted Bulah with the family garden where most vegetables where grown, if eaten. Life included the essentials but, with three brothers and two sisters, not much more. Charles realized at a young age, hard work was usually rewarding and moreover, laziness would not be tolerated.
Charles married the beautiful Mildred Estelle Parker on June 15th, 1963. Estelle, as she prefers to be addressed, is Charles' very loving, supportive, hard working and God fearing wife.
Charles worked for Royo Martin Lumber Company as a shipping clerk during his early adult years until hearing of an opportunity with Walter Mischer Construction Company in Houston, Texas. Charles left Louisiana and the lumber company in 1965 to move to Pasadena, Texas and began his career in the Civil Construction Industry. He started as a grade checker earning seventy-five cents per hour and all the hours he could work, when it wasn't raining!
Over the years, Charles was promoted to push-cat operator, dirt crew foreman, superintendent and ultimately general superintendent at Walter Mischer Company. Unfortunately, after over twenty years with Mischer, the demise of the eighties caused Charles' acceptance of early retirement. For less than one year!
Glen Angel recruited Charles to come to Angel Brothers Construction in 1985 where he again ascended to the rank of General Superintendent over all operations.
The first son
Brian Keith Burke was born in Alexandria, Louisiana on November 11th, 1964.
"Keith" grew up in a small frame home at 1315 W. Elaine in Pasadena, Texas where many construction and refinery related workers raised their families. The neighborhood was not described as poor but certainly reflected the blue collar foundation and was not overwhelmed with amenities. Childhood days included school, homework, lawn mowing and any other odd job which might produce extra money. Saturdays sometimes included a day at work with Charles.
The summer of 1977, being thirteen years old and in need of character building, Charles allowed Keith to work on a scraper crew at Mischer as a grade checker. The following summer Keith had graduated to a scraper operator. A Caterpillar 631B twin engine machine used for mass long haul dirt projects. A massive machine!!
It rained all of August that summer which convinced Keith to find other work which offered a more reliable income. After working a couple years part-time at the local Whataburger and McDonalds, a friend relayed an opportunity to join Bass & Meineke Auto Parts as a stock boy. Bass & Meineke was later acquired by the national chain of Carquest Automotive.
From stock boy and counterman through high school, he progressed to Assistant Manager, Store Manager, Area Manager, District Manager and ultimately the General Manager of the Houston Division of Carquest Automotive.
Keith's career in the automotive field provided an outstanding training ground for a multifaceted business and personnel management education and a wealth of experience.
The second son
Kevin Del Burke was born in Alexandria, Louisiana on October 12th, 1967.
Kevin spent his childhood days both fighting and working with Brother Keith. The lawn mower used to mow neighbors' lawns was usually in need of repair. Kevin was the mechanic, Keith was the salesman. They both provided the labor!
The first real job Kevin had was also as a stock boy at Bass & Meineke Auto Parts when he was fourteen. Keith had talked to the store manager and Kevin passed the interview. He had to have his parents sign a minor work authorization and Kevin then started at the same store where Keith worked as a counterman. Kevin also climbed the ladder to Store Manager with Carquest but was not happiest inside. He had always earned extra money as a mechanic "on the side" and decided to use those skills to pursue better money.
Kevin left Carquest and joined Angel Bothers Construction where Charles was the General Superintendent. Kevin worked as the lead mechanic for Angel Brothers and maintained all types of heavy equipment and marine diesel engines during his tenure with Angel Brothers.
The Beginning
Kevin's work ethic is the fire that gave birth to the nucleus of Triple B. Kevin makes things happen and he is not scared to work…or get dirt on his hands!
During the fall of 1995, Kevin had grown frustrated with the compensation and various other items about working for others. He approached Dad and me with the then "WILD" idea of starting a construction company!
There we were. Dad was fifty three years old. He was the General Superintendent for Angel Brothers. A very reputable and stable company. After working all those years in the construction industry, he was comfortable. He was earning fair money. He had some of his early retirement money left and his home was paid for but he did not have any capital he could reasonably put at risk. I was thirty one and the General Manager of a large automotive firm, very happy and on my way to upper management. I had some savings but no real money to start a capital intensive construction company. Kevin, while full of "want to" had no capital either. How could we even consider this!!!!!
After a few months of "due diligence" period studying the industry, understanding the bonding and financial requirements, the market, the overall economic picture and my own growing level of passion for the challenge, we held our first Partners Meeting.
It was Sunday morning in late January, 1996 and we were seated at the "Hot Biscuit" breakfast café in Porter, Texas. The meeting resulted in agreement on a few basic issues. The first was that we did not want a business to destroy the long, close family relationship we had built. We ate together on Sundays. We hunted together. We celebrated birthdays, Christmas etc. together and we planned to continue. Second, we agreed there is no place for family or personal issues in business. We would maintain a clear separation of business and personal issues. Finally, we agreed every great team must have a leader. Although we would be equal partners, we agreed I would be the President and therefore, responsible for leading the company down the right path for controlled growth.
Beyond those basic concepts, we discussed in detail that we would have to crawl before we would be able to walk. We did not want to pursue any "outside" venture capital and would, therefore, have to be profitable to fund any growth. We would have to invest those profits back into the business. Once we could develop some working capital, we would pursue a bonding credit line and start bidding public work. We would start with private, small, site prep projects, including land clearing, until we could vertically diversify utilizing our retained earnings to grow the bonding line which would allow Triple B to bid larger and a greater quantity of public excavation, utility and paving projects.
We immediately ordered some 18" X 24" red, black and white signs. By March, we had them. We pooled enough money to open our first checking account and wrote the first check for the $638.00 to pay the bill for the signs. The signs advertised our dba name, Triple B Dozer Works, Land Clearing, Ponds and Driveway Culverts. Kevin and I took those signs, an aluminum extension ladder, a hammer and nails and overwhelming passion and began driving all the north and northeast roadways. We would stop, climb the ladder high up a telephone pole or tall tree and nail those signs securely to their perch.
Within weeks, the telephone started ringing surprisingly regular with prospects. We quickly sold our first deal in Huffman on Blue Lake road which involved clearing a site for a mobile home. The bid was $1800.00 dollars. It was accepted. Now what were we going to do? We did not have a dozer. We did not have a trailer. We did not even have a diesel fuel tank. All we had was the "WANT TO"!!
Thanks to Dad's relationship with Hal Whitley, Heavy Equipment Salesman for then Stewart & Stevenson, we were "demonstrated" ( loaned ) a dozer and they even delivered it. We hauled fuel in a 55 gallon drum. Kevin and I took Friday off from our real jobs and we started the project early Friday morning. Dad joined us on Saturday and by Sunday; we were finished and had an $1800 dollar check for our starving checking account.
On May 28th, 1996, Kevin left Angel Brothers. He became the V.P. of Operations of the newly converted Triple B Services, Inc. Kevin's responsibilities were more aptly described at that moment as "the chief cook and bottle wash". Stewart & Stevenson did an "in-house" lease on our first dozer and Kevin went to work single handedly executing multiple projects throughout June and July. In August, we were awarded our first "five digit" private job involving clearing and backfilling an old existing drainage ditch. In order to achieve the owner's desired completion schedule we needed a second dozer and an operator. Kevin hired Homer Thorpe to fill the position as Triple B's first employee and they immediately went to work on the project and achieved an early completion. Homer is now a foreman for one of our twelve dirt crews today.
We continued to perform private land clearing, excavation and site prep projects including some which were subcontracted from more prominent General Contractors such a John Merdian & Company based in Conroe. I was busy learning to estimate larger projects, process payroll, pay the bills, produce monthly financial statements, communicate with our bonding agent, Robert Overbey, all from my master bedroom office in LaPorte, Texas.
The Turning Point
Finally, in August of 1998, we had our first bonding line established. It provided a $200,000 per job and $400,000 aggregate line of credit, which seemed like a lot at the time. We were now ready to begin bidding public projects!
Until this time, Dad and I had continued to work for Angel Brothers and Carquest Automotive respectively. Now that the bonding line was in place and the possibility of the company's continued growth enhanced, we both left our employers and became fully focused on Triple B Services, Inc...
At this juncture, Fall 1998, Triple B employed approximately 35 employees and had no office facility. It was now necessary to add an office employee to help me with all the paper but we had no office, other than my bedroom. We leased a small, 1100sq ft office near the intersection of FM2100 & FM 1960. We continued to build the company from that facility until Thanksgiving weekend in 2002 when we moved to our current facility located at 820 Old Atascocita Rd. in Huffman, Texas.
Triple B Services, LLP now employs over 300 of the finest people in our industry. We are recognized as one of the top contractors in the Southeast Texas contracting community. We have grown from those humble beginnings in 1996 to what is considered a medium level company with revenues approaching $100,000,000 today.
What do we attribute this success to? It is really very simple. The first thing is the partners' and our team's WORK ETHIC. The second is our outstanding, quality PEOPLE. And finally, we have been BLESSED.
There have been many events and circumstances where the results could have fallen on the wrong "side of the fence" but didn't, they fell on the "Triple B" side. The Partners can not and do not attempt to take credit for all the miraculous accomplishments our firm has achieved!
The Future
The Partners plan to continue to grow Triple B Services, LLP for many years into the future by focusing on three basic components.
Our People
Our field personnel have continued to prove and expand their ability to profitably expedite medium to large size residential subdivision and small to medium municipal projects. We will continue to recruit top quality human capital in the estimating, administrative and field departments to facilitate our growth. We will ask these people to strive to innovate in all areas of our means and methods to improve efficiency.
Work Ethic
While the Partners expect our people and ourselves to work hard we realize all humans need to sometimes play hard as well. We will continue to lead by example and ask our personnel to "give a full days work for a full days pay". We will start early and finish late as necessary to maintain our outstanding record of profitable completion of our projects.
Financial Strength
We have simultaneously grown and will continue to focus on our bonding and financial wherewithal. This component will allow Triple B Services, LLP to methodically and carefully pursue award of larger municipal projects including City, County, State and Federally funded contracts while maintaining our pursuit of residential projects within our target market.
The Partners agree…
.the future is bright and our market place offers much opportunity to succeed at our goal of building one of the most recognized and respected contracting firms in the State of Texas!
Best Regards,
Keith Burke
Managing Partner
Triple B Services, LLP
Professional
Quality Services

Site Preparation

Excavation

Utilities

Paving
Apply Online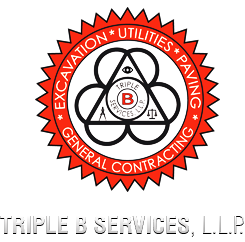 820 Old Atascocita Road
Huffman, Texas 77336
Phone: 281-324-3264
Fax: 281-324-1304
e-Mail Us