Why Triple B
We believe Triple B Services provides the best value for your company project due to the following considerations.
Triple B submits a complete, responsive and accurate bid package as implied by the documents. The thoroughness we employed during the bid process will transcend throughout the project to completion.
Triple B has completed multiple projects of the same nature and scope including projects which far exceed the contract amount and complexity.
Triple B has completed multiple projects which had MWBE/WBE/SBE requirements and we have exceeded those requirements on each and every project.
Triple B has substantial financial and bonding wherewithal to complete your project with minimal/no risk to the owner.
Triple B has the human and equipment resources available to commence with the project as soon as the required documents and site surveying can be completed. We are ready to go!!
Triple B employs an attitude of Customer Service which is uncommon in the contracting industry. We treat people the way we would like to be treated!!
I hope you will choose Triple B. You will not be disappointed.
Professional
Quality Services

Site Preparation

Excavation

Utilities

Paving
Apply Online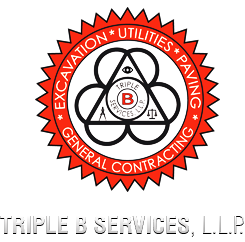 820 Old Atascocita Road
Huffman, Texas 77336
Phone: 281-324-3264
Fax: 281-324-1304
e-Mail Us